Furi Sawaki, Kentaro Yasu, Masahiko Inami (2012)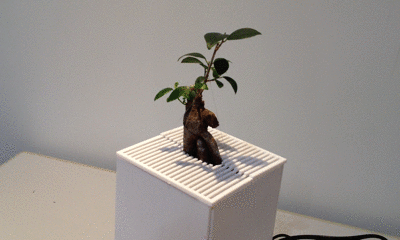 We proposed the use of a plant as a new interface by superimposing its static lifelike traits such as texture and growth, with dynamic lifelike traits. In order to improve the affinity and to promote smoother communication between a man and a robot, researchers have tried raising lifelike traits by modeling a domestic robot's operation, form, and texture on a living entity. A plant exists as a static entity having features peculiar to living entity such as texture and growth. Although plant is a living entity, it does not have the capability to move on its own unless living entity compelled by external forces. Therefore, in this research, we gave lifelike behaviors to the plant by attaching an actuator to it.
flonaは,人間と植物のコミュニケーションを活性化させ,植物が人に与える心理的作用を拡張すべく植物に動作表現をさせる機構である.この手法により従来短期的にはリアクションを行えなかった植物が育成者の働きかけに対し反応を示すことが可能となり,植物が従来持つ心理的・ 生理的な癒しや安らぎの効果を増進させることを目的とする.
Publication:
Furi Sawaki, Kentaro Yasu, and Masahiko Inami. 2012. flona: development of an interface that implements lifelike behaviors to a plant. In Proceedings of the 9th international conference on Advances in Computer Entertainment (ACE'12), Springer-Verlag, Berlin, Heidelberg, 557-560.
DOI=http://dx.doi.org/10.1007/978-3-642-34292-9_58

佐脇 風里,安 謙太郎,稲見 昌彦, 喜怒哀楽表現のための植物に特化したアクチュエーション手法, インタラクション2012,2012年3月(査読有り)

[Diginfo] Interactive plants react and convey emotions
http://www.diginfo.tv/v/12-0050-r-en.php

[Diginfo jp] 植物に感情表現をさせるアクチュエーション手法
http://jp.diginfo.tv/v/12-0050-r-jp.php